Speed Gear 6 Free Update:
All registered users purchased from regsoft.com can update to 6.0 for free. Enjoy!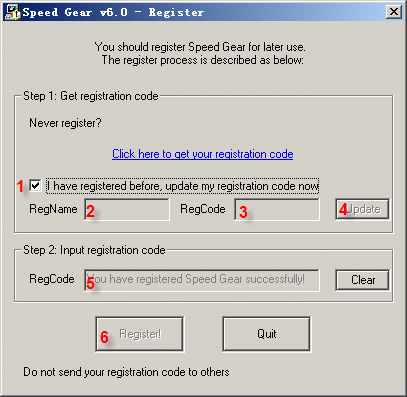 1) Selete "I have registered before, update my registration code now" option.
2) Enter your old registration name here.
3) Enter your old registration code here, Please note it's capital sensitivity.
4) Click the "Update" button. Speed Gear will connect to order server to verify your old registration information.
5) Speed Gear will show a new registration code here if your old registration information is valid. Please write down your new code in case you need to use it later.
6) Click the "Register!" button to finish your registration.
Please note one registration code can only be used on one computer at one time. The registration code will be automatically invalid on the old computer when you used it on a new computer. The registration code on the new computer is still valid. You need to purchase multi-license if you want to use Speed Gear at different computers at the same time.